---
Horticultural and Nature-based therapies - Education and Training
Ann's popular horticultural therapy and therapeutic horticulture courses are now based on central Vancouver Island. These land-based HT Certificate courses are offered over a period of one year and are approved toward professional registration with the Canadian Horticultural Therapy Association. For a short summary of course offerings, please see the downloadable 2023-24 PDF file at the bottom of this page.

For more information and answers to common questions, please check out the HT Certificate page.
If you wish to learn more about horticultural therapy (HT), therapeutic horticulture (TH), or nature-based therapies, please explore the informative sites provided on the the Resources page.

Horticultural Therapy Professional Development Program with Ann Kent, BA DipED HTR HTM

This continuing education program provides comprehensive training in TH, HT, and Nature-based Therapy via HT Certificate courses and seasonal workshops. It has operated successfully since 2006. Each course provides independent study units followed by on-site sessions. The schedule and timeline is accessible for those who may be working full or part-time, or completing studies in related areas.

Ann returned to Vancouver Island early in 2020, after a long time in Vancouver, and now lives and works on a rural property set in a beautiful coastal forest. Here she offers a land-based curriculum. Large gardens for vegetables and herbs; a contemplative stroll garden; serene nature trails; and indoor and outdoor activity spaces support an engaging study program.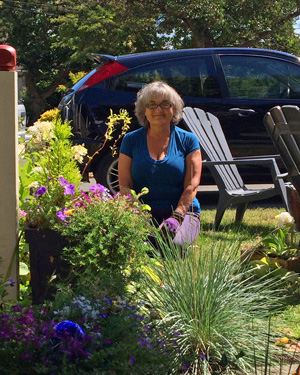 A popular instructor, Ann has taught continuing education programs in TH, HT, horticulture, garden design, and nature interpretation for institutions such as Kwantlen Polytechnic University, Vancouver Island University, and the Vancouver Board of Parks.

Ann is a Registered Horticultural Therapist (HTR) and holds a Master level designation (HTM) awarded by the AHTA. She is a member of the Canadian Horticultural Therapy Association (CHTA) and American Horticultural Therapy Association (AHTA).


Ann is active in several associations affiliated with Nature BC and the BC Council of Garden Clubs and enjoys exploring forests, estuaries, and beaches on Vancouver Island.

Nature heals, in garden spaces or natural landscapes, an important theme in Ann's teaching.

How to contact Ann:
If you have questions about the HT Certificate program or about Ann's availability for horticultural therapy consulting and therapeutic horticulture workshops, specifically geared to your interests or place of work, please email horticulture@catkingardens.ca.


Horticultural Therapy Certificate_2023-24.pdf