---
Horticulture and nature-based therapy programs, education, and consulting
Ann Kent, HTM, is a horticulturist and a Registered Horticultural Therapist with more than three decades of experience in therapeutic horticulture, horticultural therapy, nature-based education, and restorative garden design. Her business, Catkin Gardens, is presently located in Vancouver, British Columbia.

In March, 2020, Ann will relocate her business to central Vancouver Island, where she and her husband will realize a long-held dream of living and working on a rural property - with lots of trees and space to develop a large garden for vegetables, fruits, and herbs.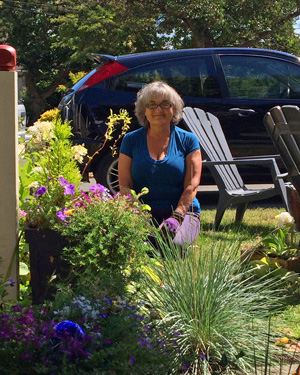 Nature heals, whether in garden spaces or natural landscapes. A growing evidence base supports the importance of access to nature for human health and well-being and it is an important theme in Ann's teaching and practice.

Ann is an active member of several associations affiliated with Nature BC and the BC Council of Garden Clubs and enjoys exploring the forests, estuaries, and beaches of south-coastal BC.

Horticultural therapy education and training with Ann Kent
A popular instructor, Ann currently teaches horticultural therapy courses and workshops in Vancouver, BC. Over the past three decades she has taught continuing education programs in horticulture, garden design, and nature interpretation for institutions such as Kwantlen Polytechnic University, Vancouver Island University, and the Vancouver Board of Parks.
A member of the Canadian Horticultural Therapy Association (CHTA) and American Horticultural Therapy Association (AHTA), Ann holds a Master level designation (HTM) for her professional registration with the AHTA and is one of two Master level horticultural therapists practicing in Canada. She is a past chair of the CHTA and remains very active in professional development in horticultural therapy.
In the spring and summer of 2020, Ann will establish a new indoor-outdoor instructional space on the family farm, located west of Qualicum Beach, BC. Therapeutic Horticulture workshops and Horticultural Therapy courses will resume in October, 2020.

Horticultural Therapy Professional Development Program
Would you like to bring your knowledge of plants and enthusiasm for gardening to a community where you work or volunteer? Are you interested in adding therapeutic horticulture programs to services for clients where you work? Are you wondering how to create a nature-based activity program that draws on resources close to home?
This continuing education program provides comprehensive training in Therapeutic Horticulture (TH), Horticultural Therapy (HT), and Nature-based Therapy via certificate courses and seasonal workshops. It has operated successfully since 2006.

Education and training opportunities continue year-round and are designed to be accessible for those who may be working full or part-time, or completing studies in related areas. For a downloadable summary of HT Certificate courses that indicates typical content and duration, please see the 2020 PDF file at bottom of page.

Each HT course stands alone. Some students elect to take one or two courses, others opt for the full HT Certificate. For more information about horticultural therapy education and training, please see the HT Certificate page.
For more information about horticultural therapy, therapeutic horticulture, gardening, and natural history in British Columbia, enjoy exploring the Resources page.
If you have questions about the HT Certificate program or about Ann's availability for horticultural therapy consulting and workshops specifically geared to your interests or place of work, please email horticulture@catkingardens.ca.
Sustainable communities and sustainable and organic gardening
Individuals and groups look to gardening, where they live and work, as an important way of contributing to sustainability in their communities, now and for the future. Through nature walks, local field trips, and hands-on activities, students are encouraged to consider gardens and habitat in the context of healthy, sustainable communities.
Horticultural Therapy Certificate_2020_Vancouver Island.pdf